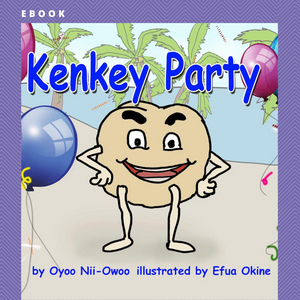 Market FiftyFour
The Kenkey Party: A Delightful Ghanaian Children's Book
Regular price
$4.00
$0.00
One morning, Akwei and Naa wanted to have a Kenkey party. But there was no fish.
Join Akwei and Naa on an adventure in this Ghanaian children's E-book, "The Kenkey Party". Perfect for 5 to 10-year-old foodies, this book takes readers on a journey where the duo sets out to have a Kenkey party, but they face a problem – no fish.
Through the story, children will not only enjoy the adventure but also learn about the process involved in preparing a meal of kɔmi, shito, and fried fish, to which the whole community contributes.
This delightful Ghanaian book, written by Oyoo Nii-Owoo and illustrated by Efua Okine, explores the origins of Kenkey, which evolved from the English word "cornmeal" to "kɔmi". The E-book is in English, and it's best read out loud by both adults and children.
Get your hands on "The Kenkey Party" eBook today and enjoy a fun-filled journey with Akwei and Naa!


---
More from this collection