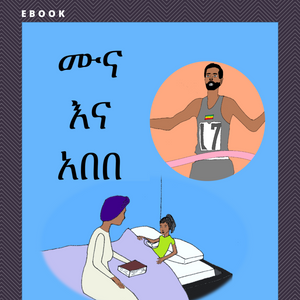 Market FiftyFour
Muna & Abebe: An Adventurous Ethiopian Children's Book About the Life of Athlete Abebe Bikila (Amharic)
Regular price
$6.00
$0.00
Muna, a young girl from Ethiopia, travels back in time and befriends the world-famous Ethiopian runner, Abebe Bikila. In this educational yet entertaining E-book, readers learn about Abebe's remarkable achievements, strength, and determination, including his historic win in the 1960 Olympic marathon running barefoot.
Author Bereket Lulseged's goal was to create a captivating story that teaches children about Abebe Bikila while also exploring the fascinating concept of time travel.

Muna & Abebe is available in both English and Amharic, making it an ideal choice for young and Ethiopian readers.
Readers have praised the book for its engaging story and educational value. Don't miss out on this amazing children's book about friendship, determination, and a legendary athlete.
--
Readers review on Muna & Abebe: "I just finished reading the Amharic version. Really loved it! Then again am a kid at heart and still read ተረት መፅሀፍ. I highly recommend ሙና እና አበበ ። የአበበ ቢቂላ ታሪክ ለልጆች ። First time I came across time-traveling kid in Ethiopian story books."