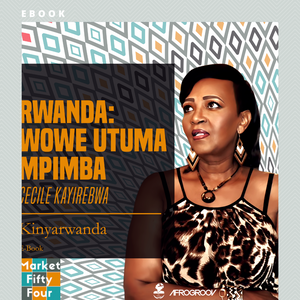 Market FiftyFour
Wowe Utuma Mpimba: A Collection of Poems in Kinyarwanda by Cecile Kayirebwa"
Regular price
$4.00
$0.00
Immerse yourself in the beautiful history of Rwanda through the legendary Cecile Kayirebwa's poetry collection, "Wowe Utuma Mpimba".

Available in Kinyarwanda as an E-book, these four poems in Rwanda's language capture essential aspects of the nation's past and have also been performed as songs by Cecile Kayirebwa herself.

Celebrated for her influence on Rwandese music, Kayirebwa's artistry showcases her love for her birth country and has influenced traditional and cultural artists in Rwanda for generations.

Discover this newest poetry collection today and experience the power of Kayirebwa's words.