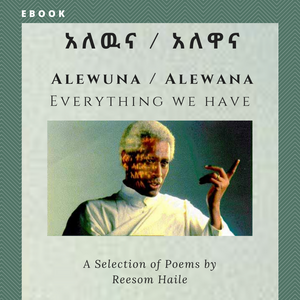 Market FiftyFour
Tigrinya Poetry Collection by Reesom Haile - Alewuna / Alewana - አለዉና / አለዋና (Everything We Have)
Regular price
$5.00
$0.00
Reesom Haile, Eritrea's poet Laureate, continues to inspire readers around the world through his poetry. "Alewuna / Alewana" - "አለዉና / አለዋና " is a selection of his finest works, carefully curated by his daughter Desta Haile.
This Tigrinya poetry collection includes inspiring and timeless poems. Each poem is published in both English and Tigrinya to ensure that everyone can enjoy the beauty of Reesom Haile's words.
As one reader wrote, "Reesom Haile was my very first inspiration. Knowing he was the poet Laureate of Eritrea was an absolute inspiration to me and to continue writing and believe in myself and dream big."
This poetry collection will introduce Reesom Haile's work to new international audiences and keep his legacy alive for generations to come. So, immerse yourself in the words of Reesom Haile and experience his beautiful world.

--
Read a preview from the poem ብዛዕባ ፍቕሪ (Talking About Love). 
ብዛዕባ ፍቕሪ
ክንዛረብ ከሎና
ንገሊኦም ማሙቚ
ንገሊኦም ቍሪ
ምዃና ይገርመና
---
More from this collection